At one time, bean bag chairs were not very sophisticated. They were essentially giant pillow cases filled with tiny white beads, and if you got a hole in it, those little beads would go everywhere and stick to everything with static electricity. These days, though, as you can tell by the Yogibo vs Moon Pod bean bag chair debate, this furniture is much more functional and stylish than they used to be. While the filler material is not a consideration in the Yogibo vs Moon Pod comparison because they're both filled with the same material (expanded polystyrene beads), there are plenty of other filler options that can make a comfortable bean bag chair.
Expanded Polystyrene Beads
Expanded polystyrene beads or EPS make up the filler for the majority of bean bag chairs. This is because they are extremely durable and their styrofoam-like structure makes them flexible enough to conform to any body shape, yet return to their original form when the pressure is removed. As such, this filler material is preferred for bean bag chairs that have the primary function of comfort. This is also why most high-quality chairs like those made by Yogibo and Moon Pod use EPS beads as their filler of choice.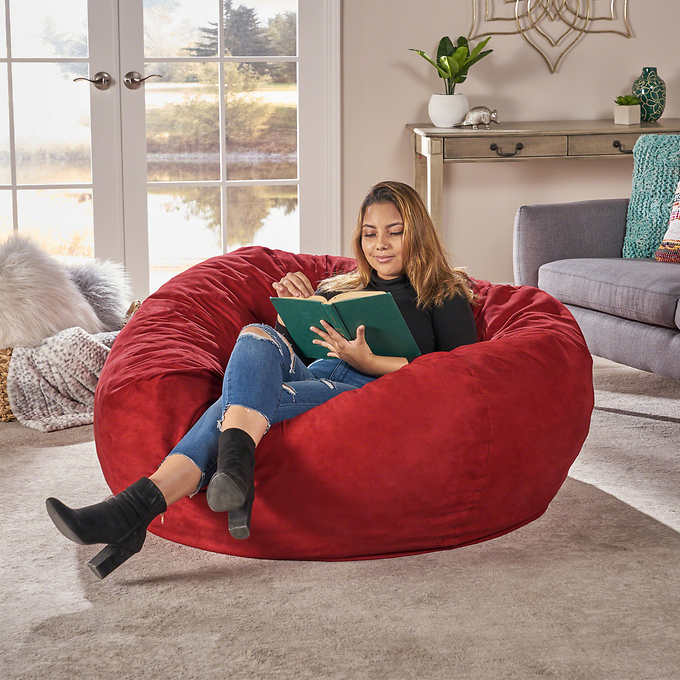 Expanded Polypropylene Beads
This type of bead is starting to overtake EPS beads in popularity as a bean bag filler because of their unique property that allows them to be heated, shaped, and cooled in that shape so that the final bean bag chair is locked into place. This means that rather than just having a round or square bean bag chair, you can have one that's in the shape of a couch or actual chair. For style purposes, expanded polypropylene or EPP beads open a whole new world for shaped bean bag chairs that are not only comfortable, but durable and stylish as well. 
Memory Foam
Compressed foam, otherwise known as memory foam, can be shredded and inserted into a fabric container to create a soft, squishy chair that conforms to the body when pressure is applied, but returns to its original form when the pressure is released. This material is a popular style of mattress and pillow because it provides the proper amount of support during sleep for any body type. Since the foam can be compressed tightly and still spring back to full size, it is a great option if you need to conserve space by storing your chair when it's not needed. 
Real Beans
Bean bag chairs originally got their name from being filled with actual beans and other dried foods like corn and rice. This material is experiencing a resurgence in popularity because of its minimal impact on the environment. The main issue with using real beans or other dried foods is that they are nowhere nearly as comfortable as the man-made materials mentioned. However, if you get thick enough outer material, you won't notice the hardness of the internal beans as much as if you choose a thin cover. 
Conclusion
If you want to make your own bean bag chairs, there are plenty of filler material options to choose from. You can even remove the current filler from one of your older bean bags, fill it with a new, different filler, and create a near-new chair. The best thing about a bean bag chair, though, is that if you don't like how one filler feels when you're sitting in it, you can easily replace it with another type.